Provides Unique Branding Opportunities for the Weight Management, Fitness, and Healthcare Companies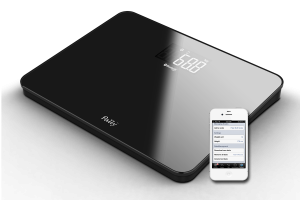 Beijing and Ottawa, January 5, 2013. Ace Sensor Inc., the leader in Bluetooth Smart connected sensors announced at CES 2013 its new wireless scale offering which offers unparalleled simplicity, convenience and ease of use. The Ace Sensor LX 200 Smart Scale provides instant access to weight measurements through smart phones without the need to manually record data on a computer. With one touch set up, the Ace Sensor LX 200 Smart Scale provides the simplest and fastest way for customers to use it. In addition to the wireless capabilities, Ace Sensor LX 200 has an attractive extra-wide glass surface, large backlit 4.3″ LCD display as well as a capacity of up to 200kg/440lb. To help people on diets who are keenly aware of weight changes, the Ace Sensor LX 200 uses high precision sensors. It stores over 3000 measurements and the batteries can last more than 5 years.
Ace Sensor also announced the availability of a customizable iPhone app now available on the iTunes App store. The Ace Sensor scale and app is designed to revolutionize the ease of use and the way the weight and fitness industry deals with its clients. Users step on the scale and the data is automatically stored or transferred to their smart phones in health clubs, at home, in the doctor's office. The app stores unlimited historical weight data, generates graphs to show weight trending, and can be configured to share weight loss progress to social networking sites. Users have full control of their privacy. Both the scale and the app are available to weight management, fitness, and health care companies, and can be fully customized and branded to the needs of corporate customers. The app can also display corporate messages in real-time.


Highly attractive volume based pricing is available to qualified health care professionals, weight management and fitness companies. "The Ace Sensor LX 200scale provides an unparalleled opportunity for the companies to provide their customers with a highly cost effective branded solution." said Dr. Jiwei Wang, CEO of Ace Sensor Inc.
Ace Sensor is exhibiting at CES 2013 in the Texas Instruments Village in the North Hall of the Las Vegas Convention Center.
The Ace Sensor LX 200 scale is available for volume shipping March 1, 2013
Ace Sensor Smart Scale Brochure
About Ace Sensor: Ace Sensor Inc. designs and manufactures smart sensor based products in the rapidly growing Mobile Health and Home Automation markets. We focus on providing useful benefits to the user and making technology transparent and easy to use. Our products target the smart phones, tablets and mobile devices, especially with Bluetooth Low Energy connectivity. We work with major existing brands in the health care and home automation industry to provide white branded solutions.
Press Contact: Randy Zadra, info@acesensor.com, 1-617-407-5472