Ace Sensor Kit: Rapid Prototyping Tool to Develope Smart Mobile Sensors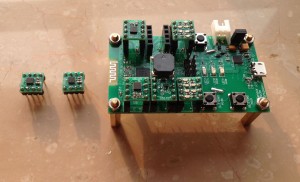 Ace Sensor Kit is a rapid prototyping kit to develop Bluetooth Smart mobile sensors.  Ace Sensor Kit consists of a mainboard with Nordic nRF51822 SoC and 6 sensor slots.  The sensor slots allow pluggable sensor daughter boards with any I²C (Inter-Integrated Circuit) enabled MEMS sensor chips.  Each sensor daughter board can use 1 slot or, if additional GPIOs are required, up to all 6 slots with 24 GPIO. There are 3 button and 3 LEDs to simple input and state display.  Sensor data can also be accessed via the UART-USB bridge IC.
Ace Sensor Kit is fully compatible with Nordic nRF51 SDK.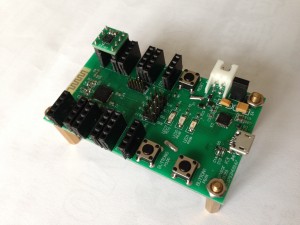 Using Nordic nRF51822 over-the-air firmware update capability, new firmware can be installed within seconds.
Ace Sensor Kit can be power with a CR2032 coin cell battery or via micro-USB.
Apart from development support, Ace Sensor Inc. also provides ODM service.  We can take your tested prototype and integrate the sensor(s) to a custom made PCB design and mass produce commercial grade products.