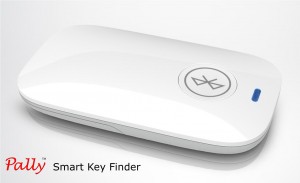 Easily Find Lost Objects Such as Keys, and TV Clickers with Your Smart Phone. Available As a Unique Promotional Product Providing High Value Branding Opportunity.
Beijing and Ottawa, January 5, 2013. Ace Sensor Inc., the leader in Bluetooth Smart connected sensors announced at CES 2013 its new smart tag offering which offers unparalleled simplicity and ease of use. Smart Finder (ACEKF103) is a Bluetooth Smart key tag which implements Find-me and Electronic Leash capabilities. Smart Key Finder allows users to locate their misplaced objects right from the smart phone. It is ideally suited to find lost objects such as keys, TV clickers, purses, and other household items. The Electronic Leash function ties valuable object to the smart phone. Alerts will be sounded if the two are separated at a distance, on the phone, the Smart Key Finder or both. The GPS location is also recorded in the app to help you return to look for the lost object. Both functions, available through a free companion iPhone app available on iTunes App store can be used to locate objects up to 150 feet away.
When the Smart Finder is activated on your smart phone, the Smart Key Finder key tag will beep and flash. The Smart Finder app also has a unique feature which guides you towards the lost object through a signal strength indicator which provides a sense of distance between you and the lost object. Using the highly power efficient TI CC254x system-on-chip solution, the Smart Key Finder can last over 16 months on a coin cell battery (CR2032).
Both the Smart Tag and the app are available to corporate gift distributors, and can be fully customized and branded to the needs of corporate customers. The app can also display corporate messages in real-time.
Highly attractive volume based pricing is available to qualified corporate gift distributors and wholesalers. "The Ace Sensor Smart Finder Tag provides a fantastic opportunity for the over 2000 corporate gift wholesales and distributors to provide their customers with a cost effective branded solution which is highly valued by end users" said Dr. Jiwei Wang, CEO of Ace Sensor Inc.
Ace Sensor is exhibiting at CES 2013 in the Texas Instruments Village in the North Hall of the Las Vegas Convention Center.


The Ace Sensor Smart Finder Tag is available for volume shipping March 1, 2013
About Ace Sensor: Ace Sensor Inc. designs and manufactures smart sensor based products in the rapidly growing Mobile Health and Home Automation markets. We focus on providing useful benefits to the user and making technology transparent and easy to use. Our products target the smart phones, tablets and mobile devices, especially with Bluetooth Low Energy connectivity. We work with major existing brands in the health care and home automation industry to provide white branded solutions.
Press Contact: Randy Zadra, info@acesensor.com, 1-617-407-5472